I had a hiatus in posting for nearly a month. The first writer's block was I was so angry with the turn of politics in our Nation that I couldn't cogently write anything about what was going on because that turn was what was laying heaviest on my mind. Some of the other folks that I read have got the subject pretty well in hand. Somehow they have a mental wall that I just can't build right now.
The second writer's block was that I didn't want this just to be a blog about cooking. I got away from that but am bringing back what I was going to post just after the American Holiday of Thanksgiving. That is why this is titled "The Ghost of Turkey Past". The title too reflects on the fact that we had turkey for Christmas. This latter one though was just roasted in the oven.
We elected to have Texas Pit BBQ smoked turkey for Thanksgiving. My Christmas present for last year (2019) was an Old Country Pecos model offset horizontal smoker from Academy Sports and Outdoors. Apparently this model is exclusive to Academy as it is not listed on the Old Country BBQ Pit website but information with it indicates that is who makes them. It is better than an Oklahoma Joe's but certainly not one of those $1,000+ units. I did do some modifications to it such as sealing the cooking chamber lid with red silicon, putting a spring tensioner on the firebox air inlet, and sealing the firebox lid.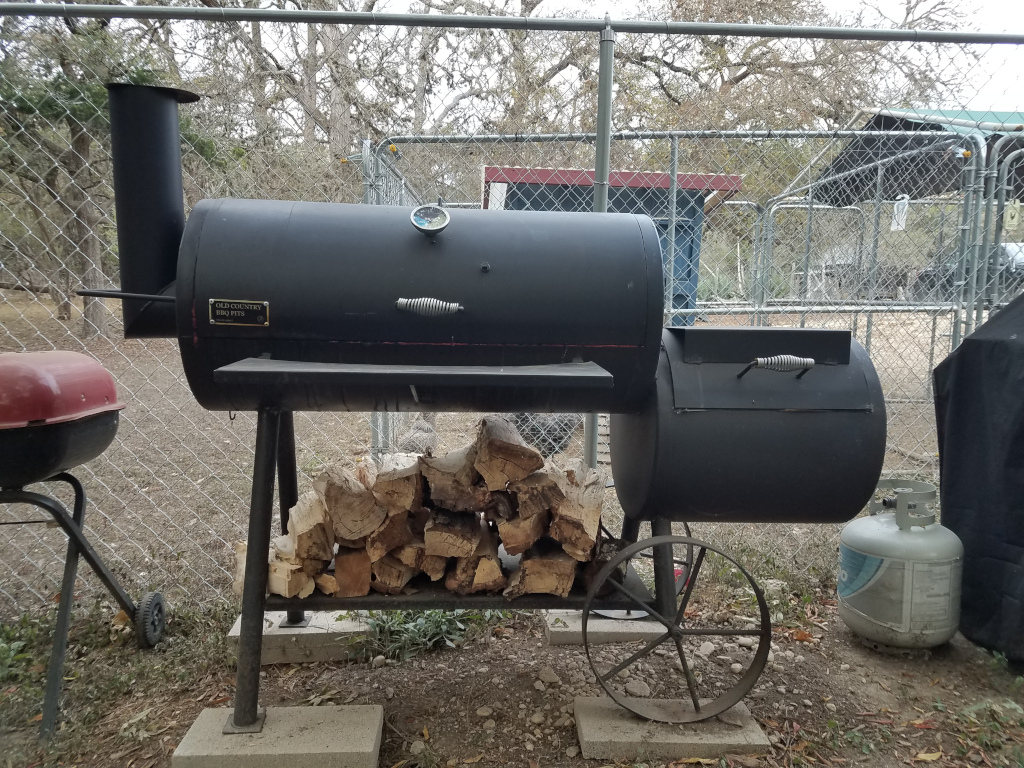 There the smoker is loaded with some of the pecan wood my son-in-law gave me for this particular cook. I laid a fire in the firebox and then used my "Lighter" to get it started. I was a Boy Scout however I was not about to try to light this with one paper match with is a feat that I have accomplished in the field.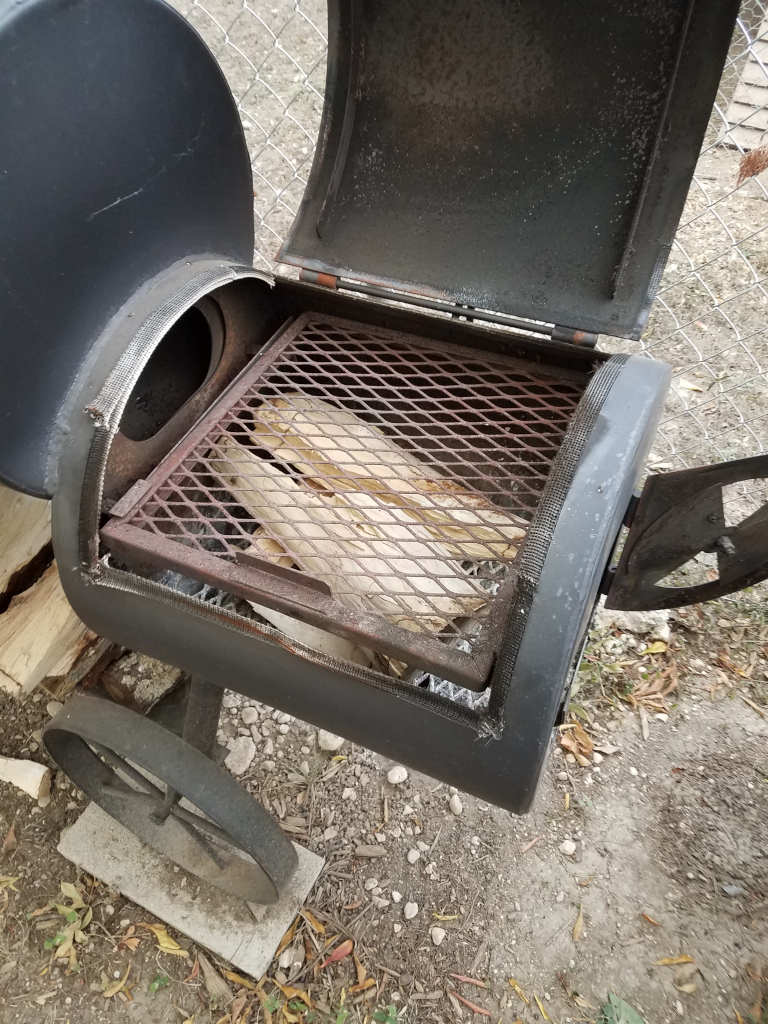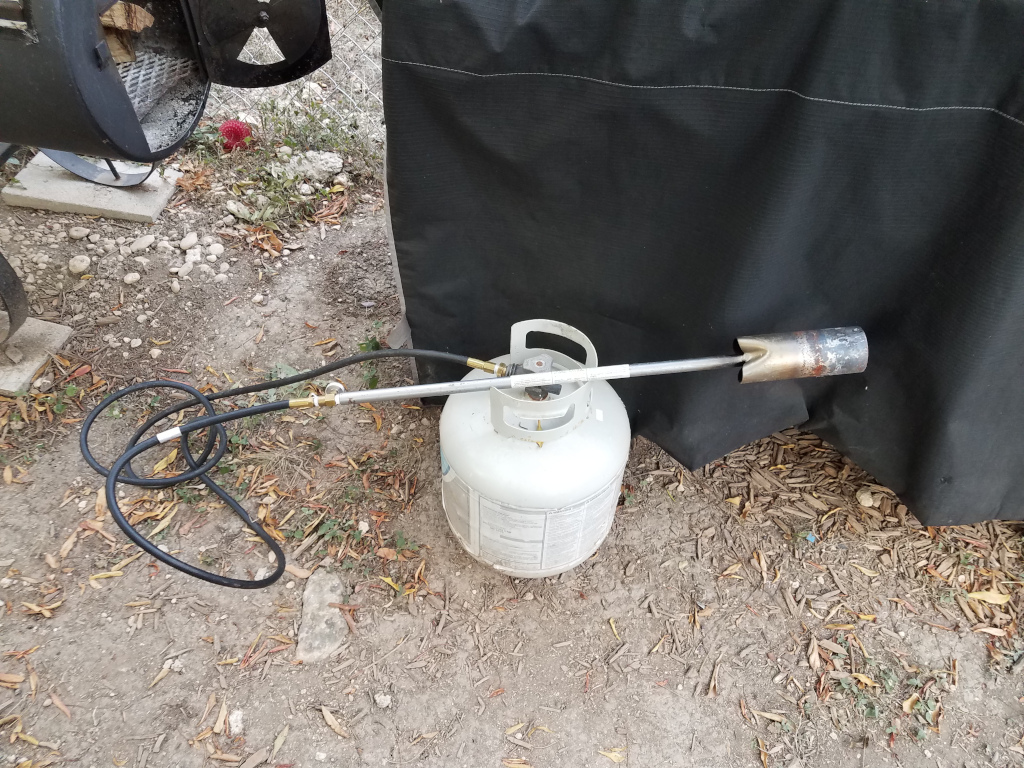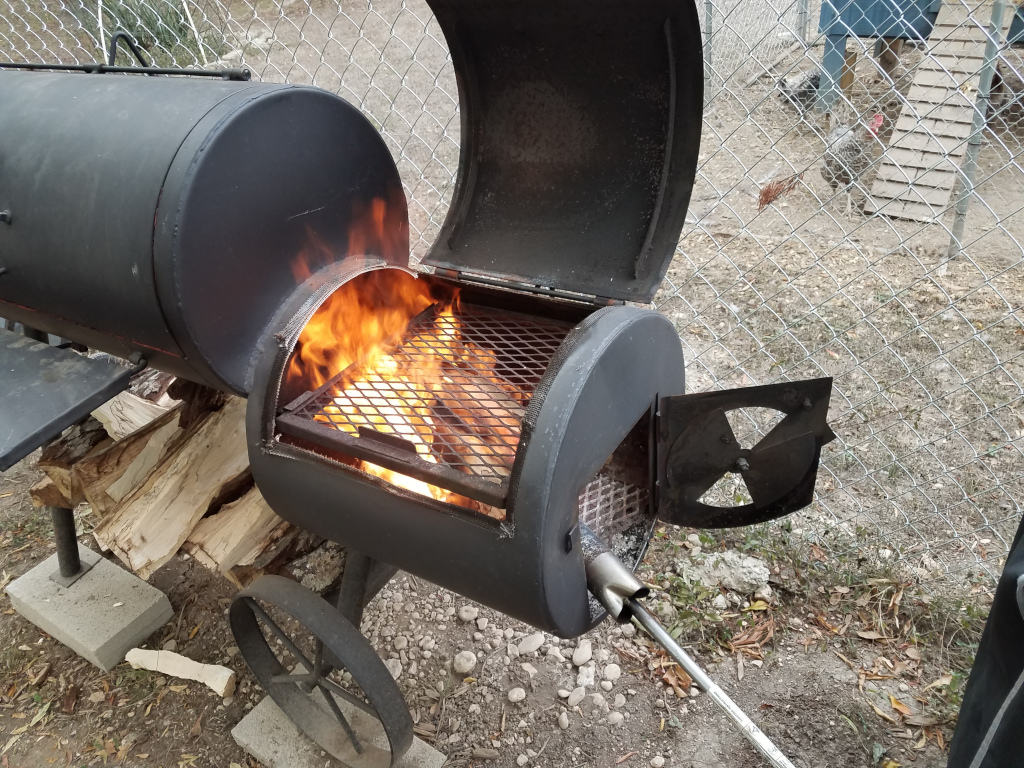 Lighting the fire is sort of fun. That "Lighter" sounds like a jet engine running. And actually it is rather like a little ram jet engine. After getting the fire lit I filled the water pan and closed the doors on this machine to let it get up to temperature. The target temperature for this effort was 250 to 275 F. Once I got there I needed to let the cooking chamber soak at temperature to stabilize. After about 30 minutes with "Blue Smoke" coming from the chimney I put the prepared bird in the cooking chamber. This is what I believe "Blue Smoke" looks like: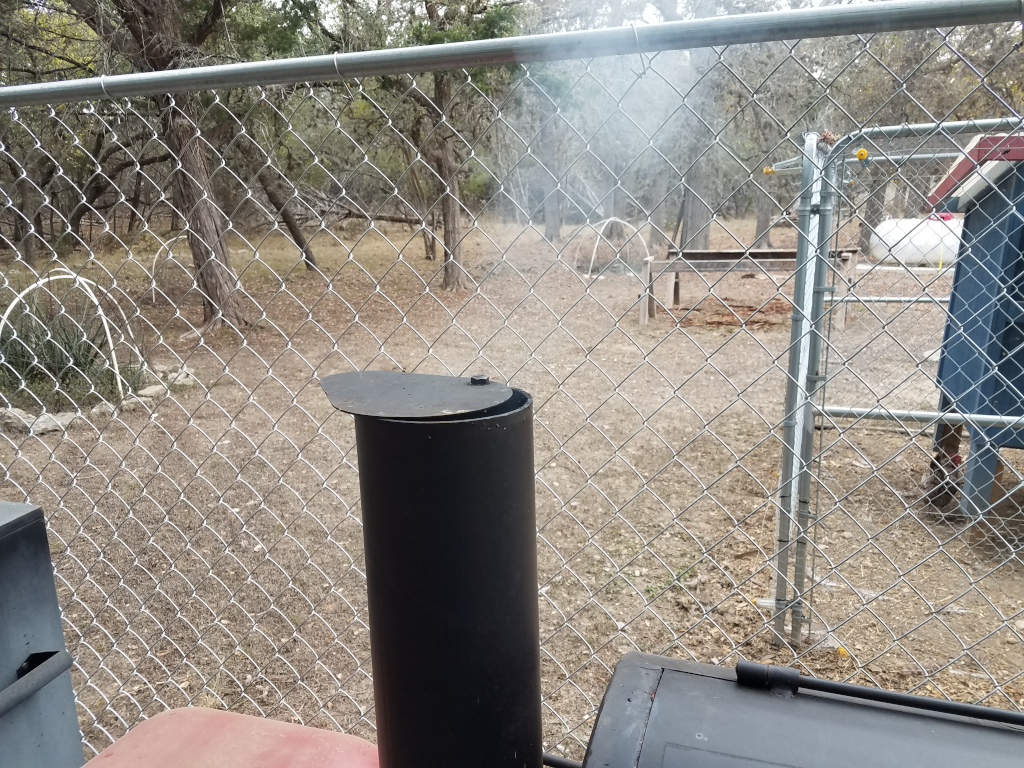 I had prepared the turkey earlier with a simple rub of salt, restaurant grind black pepper and garlic powder after washing and drying it. The goal is to give the meat you are smoking some basic seasoning from the pantry but the real seasoning is the smoke. Because Mrs. BillB does not like heavily smoked meats, the smoke time for the turkey was to be limited to about 2 to 2 1/2 hours to get the smoke flavor but not too strong of a flavor. An hour or so into cooking I took a peek to check on the turkey; it was looking good. From that peek, I determined that I would have to go the full 2 1/2 hours before "pulling" the bird and putting it in the kitchen oven to finish cooking. Here it was at "pull" time: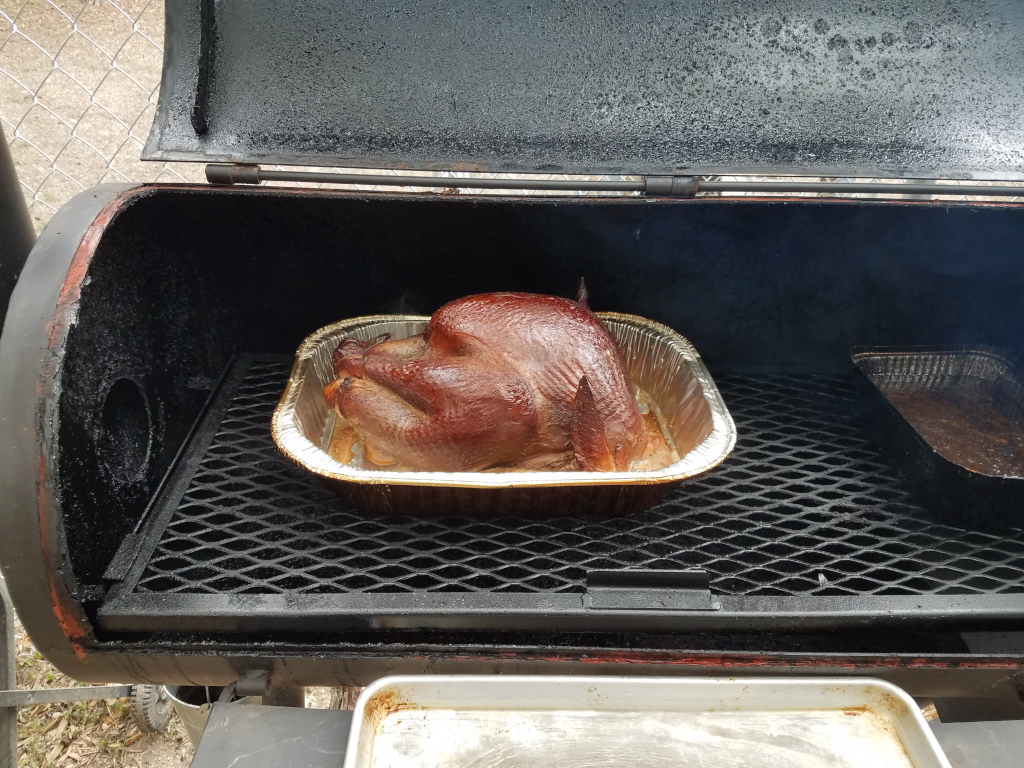 I put the bird into a 275 F oven on convection for about another 2 hours. I had a thermometer in the breast and was looking for 165 F internal temperature. When it got there, the bird was removed from the oven and this is what we had: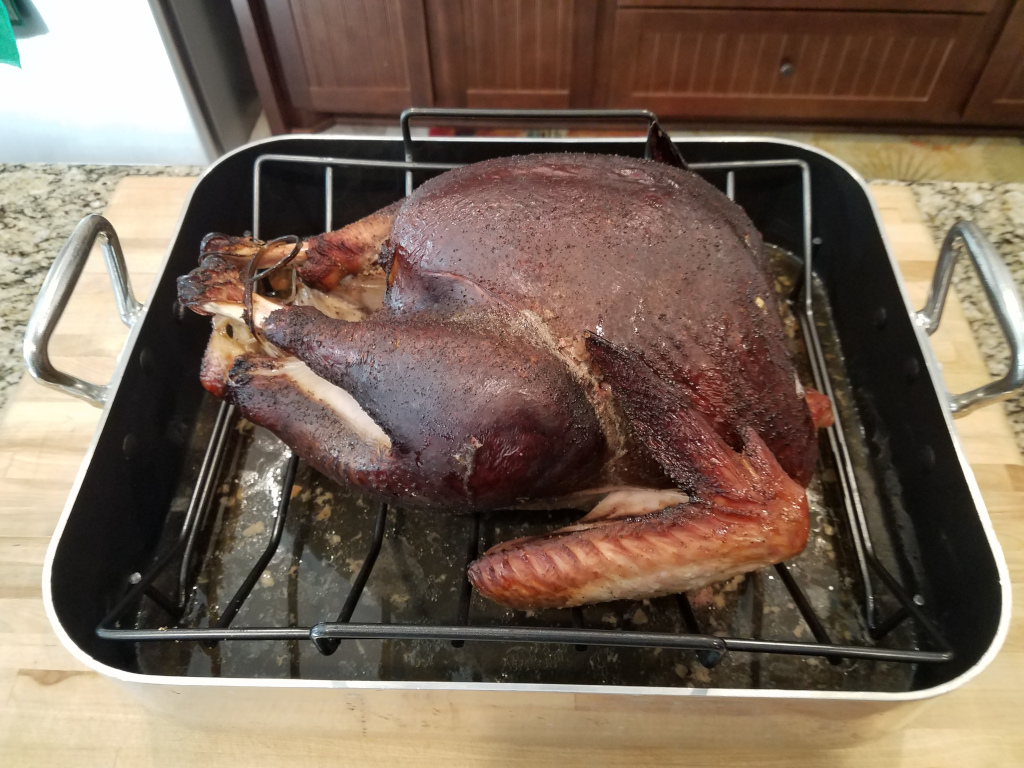 We accompanied it with cornbread dressing, mashed potatoes, roasted brussel sprouts, cranberry jelly, cranberry salsa and some nice wine. The smoke flavor was just right and we had a great Thanksgiving Dinner.
Bon Appetit
BillB